About CCGA
The Center for Contemporary Graphic Art (CCGA) is an art museum that opened in Sukagawa, Fukushima, in April 1995 in a lush setting at the foot of Mt. Uzumine. It was established by Dai Nippon Printing Co., Ltd. as the company's contribution to the promotion of graphic art, following the previous openings of ginza graphic gallery and Kyoto ddd gallery. Since July 2008, CCGA has been operated by DNP Foundation for Cultural Promotion.
The role of CCGA is to serve as an archive center to pass on to future generations outstanding works and materials in graphic design and graphic arts as a valuable cultural heritage in a land blessed with beautiful natural surroundings and ideal for the preservation of art. The two main collections are the Tyler Graphics Archive Collection, a collection of prints created by Tyler Graphics in collaboration with the artists throughout the history of contemporary American art, and DNP Archives of Graphic Design, a collection of internationally acclaimed masterpieces of contemporary Japanese graphic design.
CCGA contributes to the spread and development of our country's graphic arts culture by making these collections widely available to the public through exhibitions and events, as well as responding to various inquiries and requests from educational institutions and researchers about the collections and graphic arts.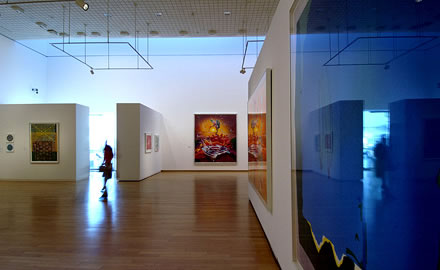 Establishment Date
April 20, 1995
Name
Center for Contemporary Graphic Art and Tyler Graphics Archive Collection (CCGA)
Location
Miyata 1, Shiota, Sukagawa-shi, Fukushima 962-0711
TEL:
+81-(0)248-79-4811; FAX: +81-(0)248-79-4816
Opening Hours
10:00 a.m. – 5:00 p.m. (admission until 4:45 p.m.)Closed on Sunday and national holyday.
Closed
Every Monday (Tuesday if Monday is a public holiday), the day immediately after a public holiday, during changing exhibition, and winter (the end of December to the end of February)
Admission
Adults 300 Yen, students 200 Yen.
Free for young children (through elementary school), senior citizens (65 and over) and the handicapped.
Salon Usage Fee
200 Yen
Design Supervision
Landscape International Co., Ltd.
Architectural Design
ED2 International (U.S.A.)
Landscape Design
The SWA Group (U.S.A.)
Construction
Penta-Ocean Construction Co., Ltd.
Site Area
8,600 ㎡
Building Area
1,148 ㎡
Total Floor Area
1,428 ㎡
Structure
Steel-framed Two-story Building
Outline of Rooms
Gallery 299 ㎡; Lobby 159 ㎡; Audio-visual room 79 ㎡; Salon 29 ㎡; Storage room 301 ㎡