Exhibition information
The 82nd
Words and Prints: 33rd Exhibition of Prints from the Tyler Graphics Archive Collection
September 12, 2020 - December 20, 2020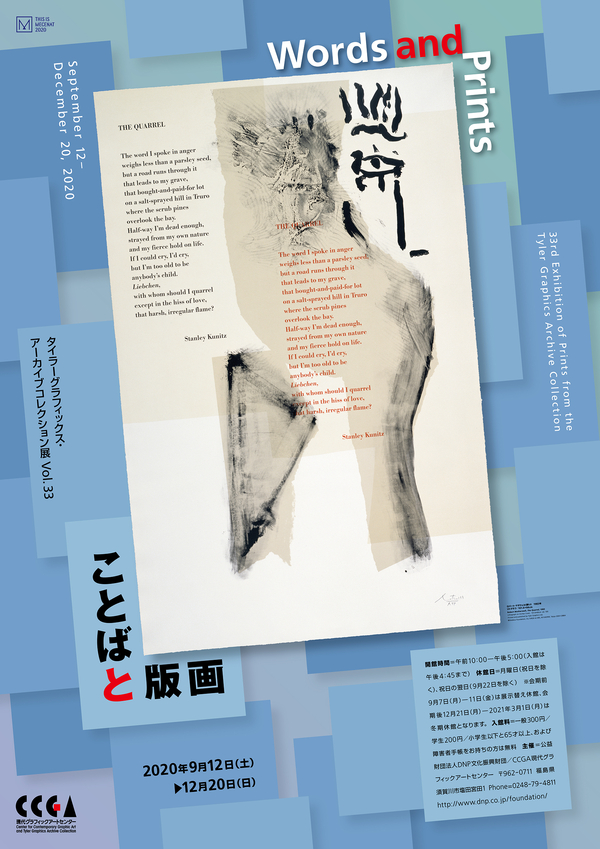 COVID-19 Preventative Measures

Prints originally developed as book illustrations, and they existed paired with letters and words. This aspect continues today, in such forms as print collections and illustrated poetry anthologies. We also find works containing letters or words introduced from contemporary perspectives aiming to rethink the relationship with images and words. This exhibition will probe the relationship between words and prints through works gleaned from CCGA's Tyler Graphics Archive Collection, with a focus on Robert Motherwell's illustrated poetry anthologies, Roy Lichtenstein's works featuring writing and so forth.
CCGA Print Studio
In 2012 the Center for Contemporary Graphic Art (CCGA), a facility dedicated to activities relating to prints and graphic design, opened a print studio open to the general public. The new CCGA Print Studio is located, together with CCGA itself, in the lush green foothills of Mt. Utsumine in the city of Sukagawa, in Fukushima Prefecture.
Sukagawa is the birthplace of Aodo Denzen (1748-1822), a painter of the Edo Period who was among the first Japanese artists to produce copperplate prints in Western style. In 2012 Aodo Denzen works were designated by the Japanese Government as Important Cultural Properties.
With the opening of the CCGA Print Studio, small in scale but fully equipped, in this location with strong associations with prints, our aspiration is that it will serve as a welcome venue both for printmaking workshops attended by the general public and as a studio open to experienced print artists.