Exhibition information
The 86th
DNP Graphic Design Archive Collection IX—KASAI KAORU POSTERS Since 1973
March 01, 2022 - June 12, 2022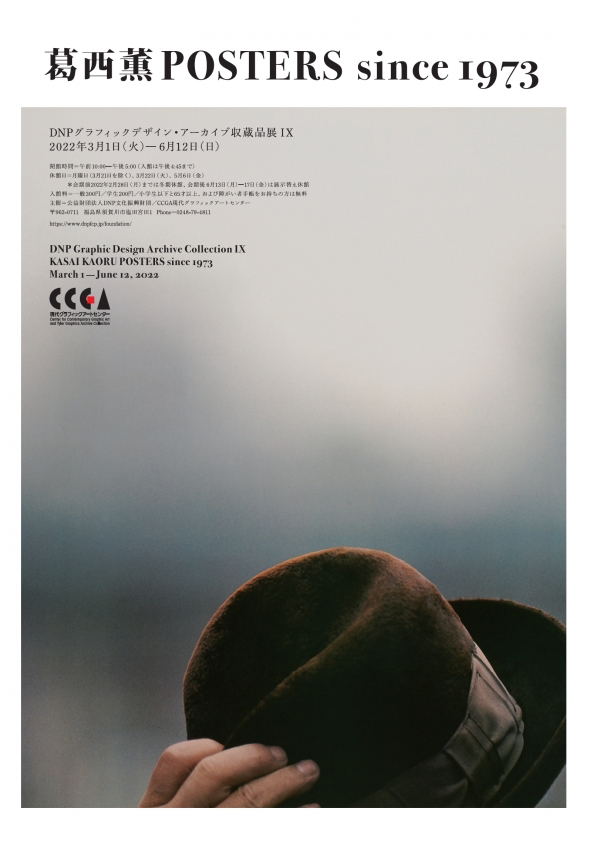 COVID-19 Preventative Measures

Art director Kaoru Kasai is known for his creative activities of remarkable breadth, including advertising, package design, corporate identity and book design. This exhibition will focus exclusively on his posters.

Kasai's works are clearly different from the ubiquitous advertising that is intent solely on stridently proclaiming a commercial message. His works do not communicate unidirectionally: rather, they conduce their viewers to sense something in them, and give them room to let their imagination take flight. Kasai's works offer their viewers magnanimous access into expansive worlds and stories waiting on the far side of his ads or posters. Visitors will surely enjoy this opportunity to revel in the unique world of Kaoru Kasai, a creative artist whose unique tone of expression set off a trend in the realm of design.
News
March 02 (Wed.)

October 29 (Fri.)

October 21 (Thu.)

September 11 (Sat.)

June 14 (Mon.)
CCGA Print Studio
Located in Sukagawa City, Fukushima Prefecture, at the foot of the verdant Mt. Uzumine, CCGA, which has specialized in printmaking and graphic design, has managed its print studio for the general public since 2012.
More details