Exhibition Archive
Exhibition information
The 330th Exhibition
"Putting Finger" Masahiko Sato + Tatsuya Saito
February 06, 2014 - February 28, 2014
In February 2014 ginza graphic gallery (ggg) will mount an exhibition titled "Putting Finger: Masahiko Sato + Tatsuya Saito." In recent years these two artists have been probing new relationships between graphic design and fingers, i.e. the human body, and in the process they have given birth to new modes of expression, new representations and new possibilities. In the forthcoming exhibition at ggg, visitors will be able to experience these new sensations by placing their fingers, literally, on a variety of Sato and Saito's graphics.
Venue
ginza graphic gallery (ggg)
DNP Ginza Building 1st floor 7-2,
Ginza 7-chome, Chuo-ku, Tokyo 104-0061
TEL:03-3571-5206 / FAX:03-3289-1389
Artists' Biographies
Masahiko Sato
Professor at Tokyo University of the Arts, Graduate School of Film and New Media; Visiting Professor at Keio University, Faculty of Environment and Information Studies
Using his own methods and approaches, Mr. Sato undertakes activities transcending the parameters of any one specific field, his interests encompassing film and video, animation, graphics, education methods, neuroscience and expression-related research. In 1999 he launched the Masahiko Sato Laboratory at Keio University, engaging in the study of concept-oriented expression. The Laboratory participates in the planning of "PythagoraSwitch," a long-running children's education program on NHK that has garnered much notice. Mr. Sato's representative works include the video game software "I.Q. / Intelligent Qube" for PlayStation and three popular children's programs on NHK: "2355," "0655" and "Crow Solving the Problem." His publications to date include "A Conference on 'So, That's What the Economy is All About'" (co-authored with Heizo Takenaka), "Monthly Newspaper," "An Arbitrary Point P," "Difference" and "Pythagoras Device: DVD Book." His many awards won to date include the Asahi Advertising Highest Award, Tokyo ADC Grand Prix, ACC Grand Prix, Creator of the Year (1991), Mainichi Design Award, Prime Minister's Award, New York ADC Gold Prize, Mathematical Society of Japan Publication Prize, D&AD Award, Minister of Education Award for Fine Arts (2011) and Medal with Purple Ribbon (2013). 。
http://www.masahicom..com/


Tatsuya Saito
Born in 1979. While on the one hand Mr. Saito delves in video technology, computer programming, display design employing electronics, advertising and stage production, he also explores new possibilities in media expression by probing human beings' inherent perceptual and cognitive capabilities. He has shown his works at Ars Electronica Center, SIGGRAPH, NTT InterCommunication Center (ICC), etc. He completed a Masters Degree at the University of California at Los Angeles's School of the Arts and Architecture and a PhD in Film and New Media Studies at Tokyo University of the Arts.
Exhibition Graphics
Masaya Ishikasa
Graphic designer, born in 1980. As a member of the creative group EUPHRATES, Mr. Ishikawa works primarily in video and graphics. His representative works include "Difference" (co-authored with Masahiko Sato and Syun'ichi Suge) and various "abstract factory" animations such as "Factory of Idea" for DNP and "factory of dream" for the "2355" educational TV program. In 2005 he graduated from Keio University Graduate School with a degree in Media and Governance.
Installation Art Work
Ryo Oshima
Programmer, born in 1986. He is selected as Super Creator by IPA(Information-Technology Promotion Agency, Japan), 2011.



「Touching Emptiness」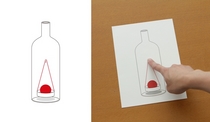 「Jumble of Dimensions」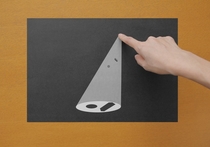 「Energy-Generating Fingertip」