Exhibition Archive
Exhibition information
The 345th Exhibition
2 MEN SHOW: stanley wong × anothermountainman
May 09, 2015 - May 30, 2015
In May ginza graphic gallery (ggg) will introduce the works of a creative director based in Hong Kong and active worldwide who has two distinct faces: one known by his real name, Stanley Wong, and the other by his alter ego, anothermountainman.
Being from Hong Kong, a place where East meets West, Stanley Wong = anothermountainman has an unmistakably international bent. But throughout his life and career he has always focused more on the Oriental philosophy that forms the underlying basis of his identity. Out of that philosophy have evolved his two sides: the commercial work he creates as Stanley Wong, and the artistic activities he performs as anothermountainman. In recent years, in step with the flow of the times he has now turned to fusing his two faces into one. We eagerly invite visitors to come see the new directions into which he is heading today, and to trace the more than three decades of creative activity that brought him here.
In tandem with the exhibition, the gallery will also publish a volume (No.115) in its "gggBooks" series dedicated to Stanley Wong + anothermountainman.


Venue
ginza graphic gallery (ggg)
DNP Ginza Bldg., 7-2 Ginza 7-chome, Chuo-ku, Tokyo 104-0061
Tel. 03-3571-5206
Hours: 11:00am—7:00pm (6:00pm on Saturdays)
Closed Sundays and holidays. Admission free.
Gallery Talk
Date: May 11 (Mon.), 2015 3:30 – 5:30 p.m.
Guest: Stanley Wong (anothermountainman)
Mr. Wong will speak in English, with consecutive interpretation.
Venue: 3rd floor, DNP Ginza Bldg.
Admission free, but reservations required (capacity: 70 persons).
* For reservations, click here.
Opening Party
Date: May 11 (Mon), 2015 5:30 – 7:00 p.m.
Venue: ginza graphic gallery
Message
creative can be commercial.
creative can also be cultural, a gadget or a magical means
in the world of art.
creative is a most valuable platform for linking people with society,
allowing space for communication, thoughts, expression and sharing.
creative is all about life.
2 MEN SHOW / stanley wong x anothermountainman,
is my over 30 years design journey, cross multi disciplines from graphics,
advertising, film directing, to interiors, objects and clothing…
as my first ever solo design show,
sincerely sharing with you how my creative career started
from commercial world (stanley wong / light grey section),
migrated to personal values (anothermountainman / black section) and
evolved to the stage (stanley wong + anothermountainman / dark grey section),
the commercial corporates working with both stanley wong and anothermountainman for the message towards society and life values…
stanley wong (anothermountainman)
Stanley Wong (anothermountainman)
Born in Hong Kong/China, Wong is a graduate of Hong Kong Technical Teachers' College (Design & Technology), is a renowned designer and contemporary artist in Asia.
Following five years as a graphic designer, Wong began his career in the advertising industry working as a Creative Director for many international advertising companies including JWT/HK, TBWA/HK and BBH/ASIA. Fifteen years later, with his passion and enthusiasm for visual creatives, Wong became a film director for television commercials and established 84000 Communications Limited in 2007, branching out his creative career.
Wong is the recipient of more than 600 Hong Kong, Asian and international awards for his personal works, design, photography and advertising works including 2 one show gold, D&AD yellow pencil and Tokyo TDC awards. Many of his works have been exhibited overseas in international museums and are now part of their permanent collections. In May 2012, Wong was awarded the Artist of the Year 2011 (Visual Arts) from Hong Kong Arts Development Awards and the Hong Kong Contemporary Art Awards 2012 from Hong Kong Museum of Art.
anothermountainman is very passionate in photography and various creative mediums with a strong focus on social issues. He has gained international awareness with his 'red-white-blue' collection, representing the 'positive spirit of Hong Kong' at the 51st Venice Biennale in 2005. In addition, anothermountainman is heavily involved with the education of design and art, and travels around the world as a guest lecturer.
In recent years, anothermountainman had incorporated his studies of Buddhism into his creative works. It is his personal mission to spread dharma for the hope of world equality and harmony.

■Inquiries
Miho Takagi, ginza graphic gallery Tel.03.3571.5206

■Works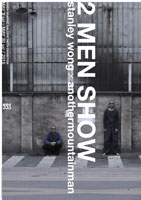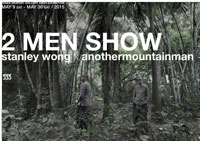 2MEN SHOW stanley wong×anothermountainman/2015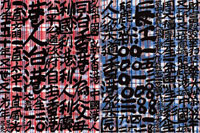 everywhere kowloon king/everywhere redwhiteblue/the code of kowloon king/2009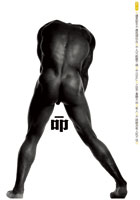 people/2000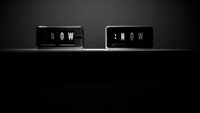 live now 2/:now/2011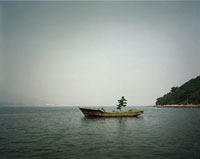 heaven on earth/fangsuo/2013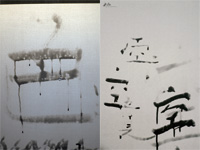 Ingenuity.nature./2011